Submitted by Bob Bhatnagar on
Pretty soon, PlayStation devotees around the world will be able to explore all things PlayStation using Sony's official iOS application. Running on iOS 4 or later, the app has already been released in selected European countries. The app will roll out to other countries soon.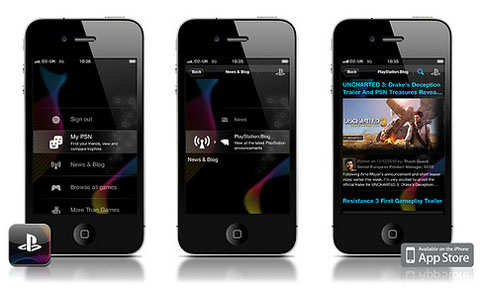 Launched so far in France, Germany, Italy, Netherlands, Spain, and the UK, Sony's PlayStation app makes it possible to access the PlayStation Network. Users can see their trophies and whether or not their gaming friends are online.
The app also includes news feeds with information on the latest and greatest games and hardware involving the PlayStation 3, PSP and Playstation 2. The app also provides information from Sony's European PlayStation.Blog website, which also announced the iPhone app release.
Of course there are also social networking features, so users of the app can communicate with friends and share items with Facebook, Twitter or email accounts. The app is free on iTunes in the listed countries, and will be coming to the US and other countries soon. Sony has not announced a North American release date as of yet.
Sony is already planning to expand on the features contained in version 1.0, with more countries and languages and a fully interactive PlayStation.Blog area that will let users comment directly to the blog. Sony expects some added features in the PlayStation app to release early next year. Although there are many PlayStation-related apps currently in the Apple App Store, this is the first time Sony has developed an official mobile application dedicated to their gaming platform.