Submitted by Bob Bhatnagar on
After years of speculation, rumors and false alarms, it looks like Verizon Wireless fans are finally about to get their own iPhone. Invitations went out today for a special news event in New York City hosted by the president and COO of Verizon himself, Lowell McAdam.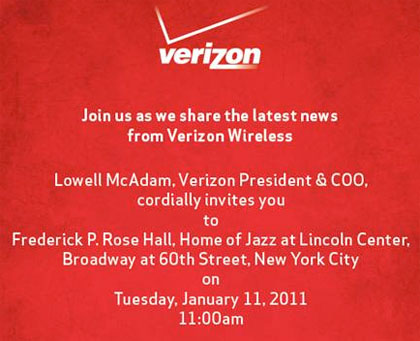 Although the invitation itself is vague, reports about the content of Verizon's presentation have gone wild on the Internet. This message comes on the heels of an iPhone-less CES just days ago, when the company disappointed Verizon-watchers with little news. Notably, CNET blogger Rick Broida reported on a tip he received two days ago stating that 1/1/11 would indeed bring a Verizon iPhone announcement.
Of course company representatives will not comment on "rumor and speculation," taking the same line as Apple. Speaking of Apple, it seems that Steve Jobs is letting Verizon handle this one since essentially their iPhone will be a modified iPhone 4. After all, there's no Apple media event every time the iPhone goes to additional carriers elsewhere. Apple will save it's high-impact announcements for new products such as the iPad 2 and iPhone 5 coming later this year.
A Verizon Wireless iPhone would bring Apple's handset into the hands of the largest US carrier subscriber base and herald the end of AT&T Mobility's exclusive contract. AT&T has been the sole official provider of service for US iPhones since the product's initial launch in 2007. Business Insider expects that Apple will sell 10 million Verizon-compatible iPhones in the first year.
Only four more days to wait and see if everyone waiting for the Verizon iPhone can breathe a sigh of relief this Tuesday morning.