Submitted by Bob Bhatnagar on
Here's the scoop from Verizon's special event in NYC: a CDMA-compatible version of the Apple iPhone 4 is coming to Verizon Wireless and Apple stores on February 10, 2011. Pre-ordering for existing customers will commence on February 3, 2011. Subsidized prices with a two-year service agreement will run $199 for the 16GB iPhone 4 and $299 for the 32GB model.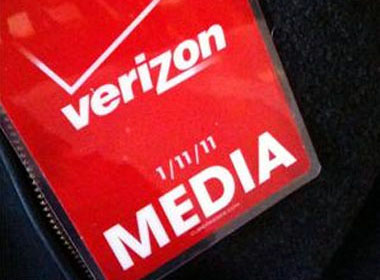 The Verizon iPhone 4 has a redesigned antenna, which is a CDMA optimization. Verizon employees will start getting the iPhone 4 this week, and Verizon has been working on scaling up its systems to prepare for a flood of data demand.
In a feature not provided by AT&T, the Verizon iPhone 4 will act as a Wi-Fi hotspot for up to five devices out of the box.
Apple COO Tim Cook even made an appearance on stage, explaining that Apple has been looking forward to this day for a long time, and lauding teamwork between the two companies. Verizon President and COO Lowell McAdam spoke at length about the upcoming LTE network and other broadband initiatives at Verizon Wireless.
Talks began in 2008 to bring a CDMA version of the iPhone into production. Pent up user demand has analysts estimating that Verizon could sell up to 12 million iPhones in the first year of release. With over 93 million subscribers, Verizon is the largest carrier in the US. The company consistently tops the charts in customer satisfaction with its network. AT&T has struggled to keep customers happy as it has dealt with overwhelming data demand from iPhone users.
It's unclear how many AT&T customers will defect to Verizon. AT&T has been diversifying its smartphone lineup in anticipation of the Verizon announcement. The company also increased early termination fees for subscribers breaking out of their two-year contracts ($325 less $10 for each full month of completed service commitment). New iPhone users were also forced to choose between two capped-bandwidth data plans in 2010, with unlimited data phased out for everyone except those who already had the plan.
Apple watchers can finally breathe a sigh of relief now that the Verizon iPhone 4 is an official reality.