Submitted by Bob Bhatnagar on
Looking forward to swapping out parts on your iPhone to make it white? How about replacing that weak battery? Better check the bottom screws on either side of the dock connector port first. According to iFixit, Apple has been shipping recently manufactured iPhone 4 units with Pentalobe screws.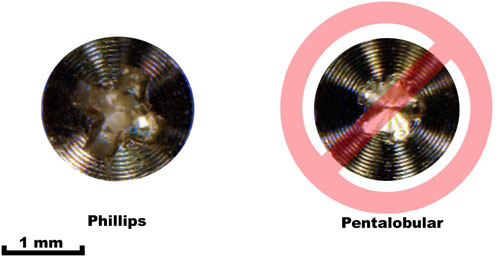 This head design is similar to a Torx screw, however the Pentalobe has five rounded lobes. Pentalobe drivers are not commercially available, which makes the screws more difficult to remove. That is, unless you're an Apple authorized repair outfit.
There are many ways to void your Apple warranty. In this snippet from the one year limited warranty, we see that iPhone warranties do not apply:
(f) to damage caused by service (including upgrades and expansions) performed by anyone who is not a representative of Apple or an Apple Authorized Service Provider ("AASP");
(g) to a product or part that has been modified to alter functionality or capability without the written permission of Apple;
iFixit sells an
iPhone 4 Liberation Kit
for $9.95, including a special driver to remove Pentalobe screws, a new pair of Phillps #00 screws, and a #00 Phillips screwdriver to install them. iFixit believes that device owners have the following rights:
- To open and repair our things without voiding the warranty.
- To devices that can be opened.
- To choose our own repair technician.
- To repair things in the privacy of our own homes.
- To hardware that doesn't require proprietary tools to repair.
- To available, reasonably priced service parts.
Apple clearly disagrees. Some have even brought their iPhone 4 with Phillips screws to the Genius Bar for repair and had them returned with the Pentalobe variety. The iPhone 4 was shipped with Pentalobe screws from the outset in other countries, including Japan. Now US iPhones will be getting the same treatment, joining many of Apple's notebook computers with pentalobular screws.