Submitted by Bob Bhatnagar on
All of those smurfberry sales have led angry parents to sue Apple over its in-app purchasing policies, thanks to kids racking up credit card bills via iTunes. The problem is that minors playing free games on the iPhone or iPod touch made headlines when hundreds or thousands of dollars in in-app purchases was showing up on their parents' credit card bills.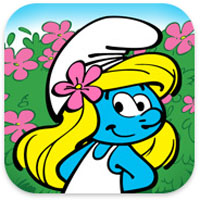 One notorious game is Smurf Village from Capcom Interactive, which allows the purchase of a $99 wagon of smurfberries. The lawsuit, filed in US District court in San Francisco, states that "these games are highly addictive, designed deliberately so, and tend to compel children playing them to purchase large quantities of Game Currency, amounting to as much as $100 per purchase or more."
Other titles that have led to children racking up credit card bills with in-app purchases include City Cash, Gems, and Zombie Toxin. Additional iOS games mentioned in the lawsuit include Bakery Story, Cake Maker, Glass Tower, Sundae Maker, Tap Fish and Tap Zoo. Apple recently added a requirement that the iTunes password be entered every time an in-app purchase is made, and added a warning screen at installation explaining that in-app purchases cost real money.
Apple responded to a Federal Trade Commission investigation by adding these policy changes and recommending that parents adjust lock-out settings in Parental Controls. iTunes normally allows a 15-minute window of time for purchasing once the Apple account password is entered on a mobile device. Reports of children spending hundreds and thousands of dollars within this time frame on in-app purchases caused a firestorm over smurfberries and led to complaints against Apple. Apple gets 30 percent of all iTunes purchases, while game developers get the rest.
iTunes accounts for kids can not only be restricted, but if a parent wants to allow a specific amount of in-app purchasing, they can link the iTunes account to a gift card with a pre-set limit instead of a credit card. The lawsuit claims that Apple is pulling a fast one on parents by addicting kids to free games, however it seems the developers are also to blame and keep most of the money. Some parents have gotten refunds from iTunes after complaining, but ultimately giving your iTunes password to your kid could just be a bad idea. Parental restrictions exist for a reason, and if you don't know what your child is doing with your iPhone then you probably have bigger issues than smurfberries to worry about.