Submitted by Bob Bhatnagar on
T-Mobile fans rejoice. New evidence points to Apple actively testing a variant of the iPhone 4 on the carrier's network. This story seems to contradict previous reports that the iPhone would not come to T-Mobile anytime soon, despite a merger deal with AT&T. Should the next iPhone be launched in September, the device very well could make its way to T-Mobile customers. The photo below from BGR shows a test unit in white with the carrier name listed as T-Mobile.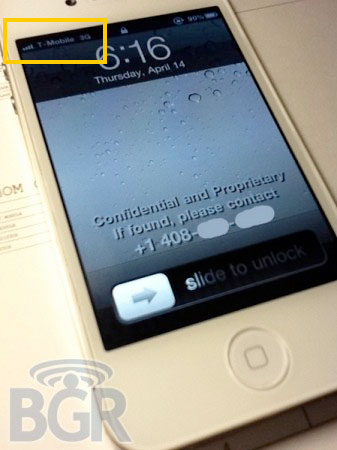 Even more photos were released showing that this test iPhone 4 has a bundle of proprietary Apple software installed, such as the Radar test app and an internal employee directory. The model number of this test handset is N94, making it different from both the AT&T and Verizon model numbers, which are N90 and N92 respectively. The iPhone looks to be running a test version of iOS with new multitasking features.
The test iPhone looks to be the same model as that handed out to select game developers in preparation for the next iPhone launch. This souped-up iPhone 4 has been dubbed the iPhone 4S thanks to its updated hardware, including the quicker A5 processor found in the iPad 2. There are conflicting reports over what the next iPhone will look like, with some sources pointing to an external design more like the iPod touch with a slim profile and metal back. Others indicate the next iPhone will keep the same form factor as the iPhone 4 with new insides.
In any event, the iPhone 4S or iPhone 5 looks to be delayed until September. T-Mobile fans would be happy to finally have the iPhone on their carrier this year, while AT&T and Verizon customers would see this release as a delay from the normal summer update schedule. Apple is slated to release the white iPhone 4 next week according to the latest information leaked from European carriers, which could have something to do with the next generation iPhone delay. Stay tuned.