Submitted by Frank Macey on
Apple can't keep a lid on the latest case designs according to Mobile Fun, who claims to have two independent sources with iPhone 5 case plans. If the leaked designs are legit, it would appear the iPhone 5 is due for release in just weeks. Of course, the cases themselves are not as important as the future devices they will protect.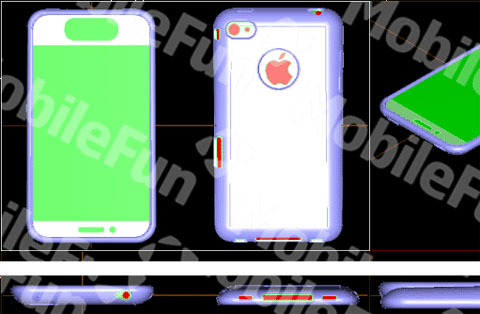 As seen above, the design of the iPhone 5 will not be simply an update of the iPhone 4 that some are calling the iPhone 4S. What appears in these diagrams is a radical departure not only from the iPhone 4, but possibly the most significant redesign of the iPhone since its original 2007 launch.
The 5th generation iPhone will have a larger screen that reaches to the edge of the bezel and takes up almost the entire front of the device. Even more stunning is a complete replacement of the home button with an oval capacitive touch surface capable of interpreting different gestures to help control the device and the new mobile operating system iOS 5.
The case clearly shows an iPhone 3G or 3GS style curved back, however the specific shape of the back appears more akin to the iPad 2. Not only this, but the circular hole in the case design looks to expose the Apple symbol. This detail could point to a redesigned antenna, as the iPad also has a plastic Apple logo "window" to allow radio signals to pass through the back of the device. A window is only necessary if the back is actually made of metal, which previous leaks have indicated is a likely design choice for Apple.
Strangely, Mobile Fun also claims the side buttons have been moved to the opposite side of the iPhone and may be touch sensitive instead of physical buttons. Neither of these claims is substantiated in the image, although the vibrate toggle appears to have made a jump to the right side of the handset. Some reports have pointed to Apple moving the LED flash away from the camera lens in the iPhone 5 but this case design does not reflect the change. Apple has kept iPhone fans waiting longer than usual for a hardware upgrade so the final release may be a surprise. Stay tuned.