Submitted by Marshall Walker on
A leaked advert published by TechnoBuffalo shows that Best Buy believes the iPhone 3GS is on its way out. In a one-day only sale, Best Buy is offering the device for free with two-year activation. Presumably to make room for the next generation iPhone.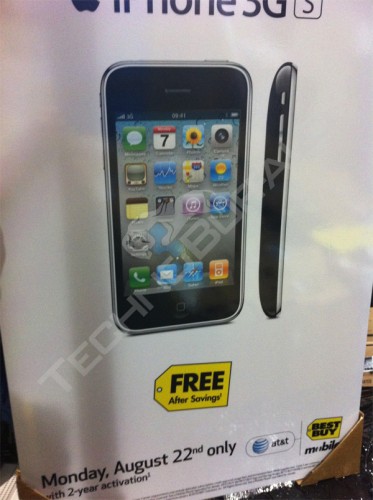 This could be a great way for first time iPhone buyers to jump on the Apple bandwagon, unless Apple really plans to release an affordable iPhone this fall. I can't imagine anyone would want to get stuck with an old device, when an affordable newer iPhone may be on the way.
If you plan to take a gamble on a free iPhone 3GS, call your local Best Buy to make sure they're participating in the sale before you waste your time. The sale starts and ends on Monday, August 22.