Submitted by Marshall Walker on
The same day Bloomberg announced that Sprint would be offering free unlimited data plans with the iPhone 5 in mid-October, SprintFeed published a screenshot of the carrier's internal systems which revealed they're preparing for a "major phone launch" in October. Sprint's biggest known upcoming release is the Galaxy S ll which is due out next week. The memo states that a blackout is the begin on September 30 through October 15, so we know Sprint isn't canceling vacations for their Galaxy series. The note says "possible" major phone launch, meaning if it's for the iPhone 5, no one is quite sure of an actual release date. So don't believe all those bold predictions from the "unnamed sources" we keep hearing from.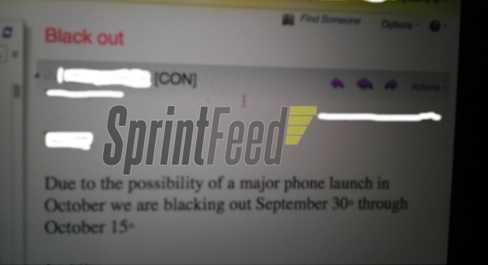 Best Buy is also prepping for a Sprint iPhone in October. A leaked internal memo showed that Best Buy stores are anticipating iPhone 5 pre-orders to begin in first week of October, and they're expecting a Sprint iPhone to be part of the launch.