How can I send a multimedia message (MMS) from the Apple iPhone?
Update: Apple iOS has fully integrated MMS support in the Messages app. The latest firmware also includes support for Apple's iMessage, which can be set up to send messages between iOS devices without using a text plan.
To send an MMS on the iPhone open the Messages app. Create a new message by tapping the button in the upper right hand corner of the screen. To add a photo or video touch the small camera button pictured in the screenshot below. You will be prompted to take a new photo/video or select multimedia content from an album on your device.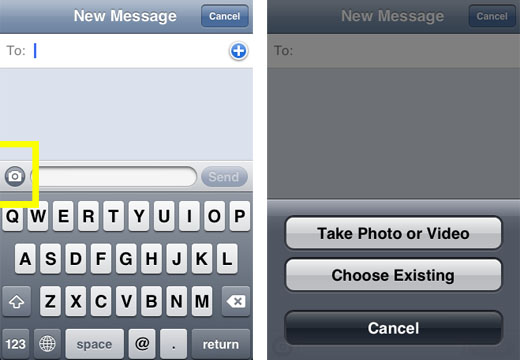 Previous instructions for sending MMS messages on older iPhones can be read below.
Update: Apple iPhone 3G and 3GS now support MMS on AT&T. To activate MMS on your iPhone 3G/3GS with
firmware 3.0 follow these instructions
. If you wish to update your firmware to 3.1 then MMS should activate during the update process.
One of the most perplexing feature omissions from the iPhone was the lack of support for the MMS protocol. One can only assume that this was a deliberate choice by Apple, though it is hard to determine why.
Many users who are accustomed to snapping photos w/ their camera phones and sending those photos to friends and family via text/MMS messaging have been surprised to find out they can't do the same with their iPhone.
Thankfully, due to iPhone's email capabilities - there is a workaround.
In this day and age, almost all mobile phones have not only a phone number, but an email address. In fact, most mobile phones have two emails - one for plain text messages, and one for MMS.
Using iPhone's email picture function, you can still get your photos over to your friends' phones by emailing it to their phone. This does not require that the destination phone has email support. By emailing your picture to their phone and not their email, they'll receive it like a normal MMS message, provided they have MMS support on their phone.
Here's how to do it:
1) open a photo on your iPhone
2) click on the send photo link (bottom left hand icon)
3) select to email the photo
4) using the table below, enter the phone number of the person you want to send to, followed by the email suffix for their provider
| | |
| --- | --- |
| Service Provider | MMS Email Suffix |
| Verizon | vzwpix.com |
| AT&T/Cingular | mms.att.com |
| Sprint/Nextel | messaging.sprintpcs.com |
| T-Mobile | tmomail.net |
| Virgin | vmobl.net |
| Boost Mobile | myboostmobile.com |
| Alltel | message.alltel.com |
| Amp'd Mobile | vzwpix.com |
So, for instance, if you wanted to send an email to a Verizon user who's number was 8175551212, you'd send to 8175551212@vzwpix.com.
Hopefully, the iPhone will be updated to include MMS support soon. For now, this works.