Submitted by Marshall Walker on
When it comes to battery life, Apple's official iPhone 4S specs are a little bit dodgy. According to Apple, the iPhone 4S has one-hour of extra 3G talk time than its predecessor, but the same battery life as the iPhone 4 when it comes to basically every other feature. iLounge decided to investigate how the iPhone 4S improves upon the iPhone 4 in some categories, and how it falls short in others. The tech site put the devices through an extensive battery test and discovered the iPhone 4 actually has a slight edge over the 4S when it comes to battery usage.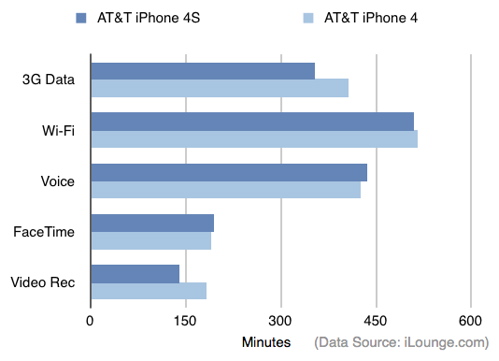 In a 3G Data test the iPhone 4S failed to outlast the iPhone 4 in Audio Playback, Video Playback, and Video Recording. The iPhones were pretty even for FaceTime and Wi-Fi with the iPhone 4S clocking in slightly better for Cellular Calls. The chart above shows some of the comparisons for AT&T.
"After three days of non-stop testing, we had a clear answer: the iPhone 4S is generally more power hungry than the iPhone 4, and Apple has only made the slightest capacity improvement to the iPhone 4S's battery. Moreover, whereas Apple underpromised with the iPhone 4's battery estimates, it comes closer to overpromising with the iPhone 4S."
While comparisons between carriers can't be one-hundred percent accurate due to signal strength, iLounge found Sprint lagged behind AT&T and Verizon in Cellular Data at 5 hours and 23 minutes. Both AT&T and Verizon clocked in at 5 hours and 54 minutes. The iPhone 4S falls short of Apple's promised 6 hours of 3G internet use, but the iPhone 4 surpasses it by 47 minutes.
"Sprint's poor battery performance was compounded by its slow data speeds, suggesting that users of this network will get hit with the double whammy of sluggish performance and lower longevity. It's also noteworthy that neither Verizon nor Sprint allows cellular data to be used when making phone calls, a feature that's only offered by AT&T."
For Wi-Fi Data the iPhone 4S fell 30 minutes behind Apple's estimate, but it's also 1 hour and 30 minutes behind the iPhone 4. The iPhone 4S only offered 6 hours and 27 minutes of talk time on the Sprint model, 7 hours and 16 minutes for AT&T and 8 hours and 27 minutes for Verizon. Apple promises 8 hours of talk time, 1 hour longer than the iPhone 4.
The numbers might not be noticeable to the casual iPhone user, but they could add fuel to the iPhone 4S vs. iPhone 4 debate.
You can read a more thorough breakdown of iLounge's tests here.