Submitted by Bob Bhatnagar on
Has your iOS device been running slower lately? There are a few simple things you can do to help speed things up and keep your iPhone or iPad running faster. Like any other computer, Apple's mobile devices require some periodic maintenance to keep everything optimal.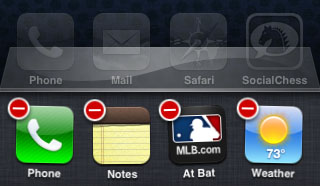 Over time iOS may slow down or even do some strange things, which could mean several different things. Before you rush to Apple or go through the trouble of a complete restore with iTunes, try these steps and see if your iPhone or iPad starts running more smoothly.
1. Clear out the apps running in the background periodically. To do this double-click the home button to bring up the multitasking dock. You will see icons for recently used apps. Press and hold one of these icons until they start wiggling (pictured above). Tap the red circle on each of the apps. They will slide over as they disappear until they're all gone.
2. Reboot your iOS device. Just like a computer, the iPhone, iPad and iPod touch run better when they are restarted. You may want to try restarting if something goes wrong, after new apps or app updates are installed, or if the device has been on for several days or weeks. To reboot hold down the wake/sleep button at the top of the device. When you see "slide to power off" use the slider to power down. After the screen goes dark, press the sleep/wake button again to boot up fresh.
3. Make sure there's free storage space on your device.
iOS needs some wiggle room as it operates on your device. If every last megabyte of free space is taken up by apps, music, books and movies this could impact performance. The first thing to do is check and see how much free space is left on your iPhone or iPad. Navigate to Settings -> General -> Usage for a summary of "Available" and "Used" space, as well as a list of the apps using the most storage.
If your available space is less than 1GB then iOS could probably use some more. iTunes can be used to remove music, videos, apps, photos and more from your device before syncing, which will give you a running estimate of how much space you're using.
Alternatively, apps can deleted right from the home screen or under Settings -> General -> Usage by selecting the app from the list and hitting the Delete App button. Music can also be deleted directly on your iPhone or iPad by swiping from left to right over the Artist, Song or Album name in the Music app.
There are other ways to clear space on your iOS device without using iTunes, such as deleting videos and photos from the Camera Roll. With a little extra space to work with and some regular maintenance, iOS should perk up.