Submitted by Bob Bhatnagar on
If you're one of the many iPhone users who has created home screen shortcuts for individual Settings on your device, you might want to skip the iOS 5.1 update. The first beta of iOS 5.1 has been seeded to developers, and the loophole that allowed this shortcut trick is now closed.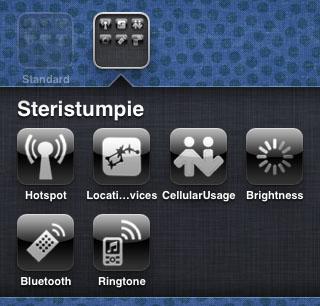 This is unfortunate for iPhone 4 and iPhone 4S users (and some 3GS owners) who are waiting patiently for an untethered jailbreak solution for their devices. Shortcuts to individual settings on the iPhone home screen saves time and effort scrolling through several menus to change one item, such as turning on Airplane Mode or switching off Location Settings.
Those lucky enough to have a jailbroken iPhone can install SBSettings, a popular package that creates a customizable toggle menu for Settings. Swiping over the status bar at the top of the home screen reveals the SBSettings toggles and makes changes to settings a two-touch affair. Various toggles have been developed to change all kinds of settings, and appearance of the toggles themselves can be changed.
The shortcut method, known as IconSettings, is simple to install and requires no jailbreak. It works by using a loophole in Mobile Safari. According to iDownloadBlog, iOS 5.1 beta disables the ability to reach iOS settings using a URL. Those with shortcuts icons installed on the home screen are greeted with an error stating "Please enter a valid URL." If you're currently making good use of IconSettings then be aware that updating to iOS 5.1 will take this functionality away.