Submitted by Bob Bhatnagar on
What's great about Twitter and several other apps on the iPhone is that you can simply pull down to refresh information. Jailbreakers may already know this is the preferred way to refresh with IntelliScreenX, for example. Apple has seen the light and will be adding this functionality to the Mail app in iOS 6.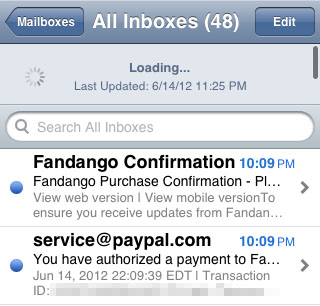 If your device is already jailbroken with Absinthe, you can add pull to refresh to your Mail app right now for free. The name of the tweak is Pull To Refresh for Mail and it comes to us from developer xh and the BigBoss repo on Cydia.
To install Pull To Refresh simple open Cydia and navigate to Sections -> Tweaks or use the Search function to find the package. Once installed, there is just one option under Settings -> Pull to Refresh. Enable Sound will toggle the subtle scratching and popping sounds you hear when gesturing down with one finger on your mailbox, then the screen springs up and loads the latest mail messages.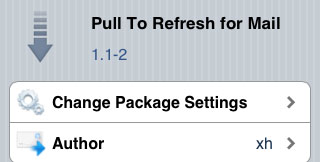 Although the description in Cydia states that Pull To Refresh for Mail is compatible with firmware 3.x and iOS4, our tests have worked perfectly with iOS 5. Overall this is a simple tweak that adds an intuitive gesture to the Mail application ahead of schedule. Why wait for iOS 6?