Submitted by Marshall Walker on
Those "people familiar with the matter" are at it again, this time telling the Wall Street Journal that Apple is "ordering bigger screens from its Asian suppliers." According to the Journal's sources, the next generation iPhone could feature a 4-inch display instead of the normal 3.5-inch display. Many believe that Apple will unveil the new iPhone with larger screen sometime this fall.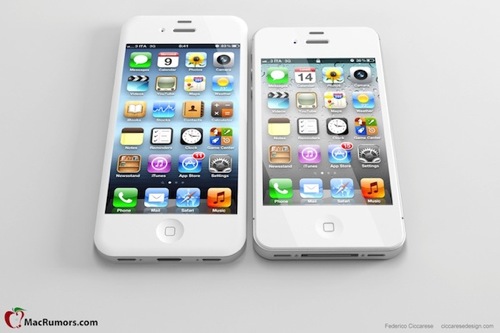 It has also been rumored that Apple has been testing and consider releasing a smaller iPad in 2012. Apple has stuck to the same 3.5-inch display for its iPhones, and the same 9.7-inch display for its tablets since both devices were originally introduced.
MacRumors recently commissioned Ciccarese Design to produce the high quality rendering of a larger iPhone posted above. A 4-inch diagonal screen would allow for another row of apps per screen, and would make the new iPhone 10mm taller than the current iPhone 4S model.