Submitted by Frank Macey on
Could bending and twisting iPhones be coming to consumers in 2012? Not likely, however a report in Korea Times has industry watchers talking about flexible screen technology anyway. Samsung Electronics Vice Chairman Kwon Oh-hyun told the publication his company is getting ``huge'' orders for its line of flexible OLED displays.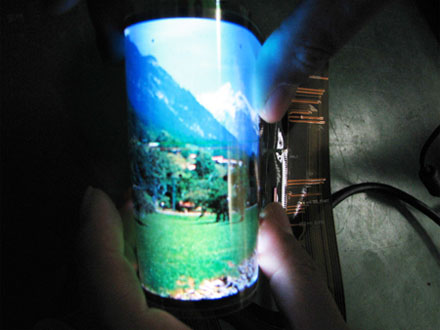 When it comes to component manufacturers getting huge orders for their products, Apple immediately comes to mind as a likely buyer. Apple has been one of Samsung's largest customers for mobile displays despite their competition in the smartphone market and raging patent battles.
Samsung has invested in OLED technology, putting the displays in its own smartphones and expecting to see several other device manufacturers switch from LCD. OLED displays can provide a brighter picture while consuming less power and weighing less, perfect for mobile devices. Although full flexibility may be some years away, there are still advantages should Apple put an OLED in the next generation iPhone 5.
Besides the reduced power consumption, an OLED display would be much more durable than the current LCD displays which are prone to breakage. What's unclear is whether or not this makes a difference in the iPhone, as current iPhone designs are completely surrounded by breakable glass anyway. Although the iPhone "Yoga" may sound like a catchy name for the sixth-generation iPhone, don't expect to twist or bend your iPhone for a while.
More likely to happen are reports of a larger
four-inch iPhone screen
with a 16:9 aspect ratio, making the device slightly taller with an additional row of app icons.