Submitted by Marshall Walker on
A 9to5Mac reader managed to snap a picture of an iOS 6 banner being hung at the Moscone Center in San Francisco. MacRumors also posted a few different iOS 6 photos taken by Instagram user Zac Altman. This proves that Apple is set to unveil iOS 6 during the Worldwide Developers Conference which kicks off on Monday.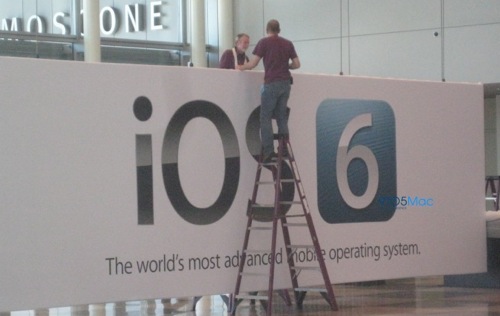 iOS 6 is expected to bring Siri to the iPad 3, and full Facebook integration to all iOS devices. Other changes include a "Do Not Disturb" switch for notifications, Apple 3D Maps, and Siri improvements.
Click here for a complete breakdown of all the rumored changes.
The jailbreaking community has also been busy adding iOS 6-like features to Cydia for jailbreak users who can't upgrade. The jailbreak tweak called BannerDisable adds a notifications toggle to the Settings app, and the FacebookThis tweak adds the ability to upload pictures to Facebook from the Photo app. Jailbreakers will have to wait until iOS 6 is jailbroken to enjoy some of the other new features it will bring.
The WWDC takes place from June 11 to June 15 at the Moscone Center in San Francisco.