Submitted by Bob Bhatnagar on
Looks like one lucky Apple customer already received an iPhone 5 in the mail. While the rest of us are waiting until Friday for the first round of pre-orders to arrive, here are some unboxing photos thanks to a tip sent to BGR. So what does the unboxing tell us about the iPhone 5?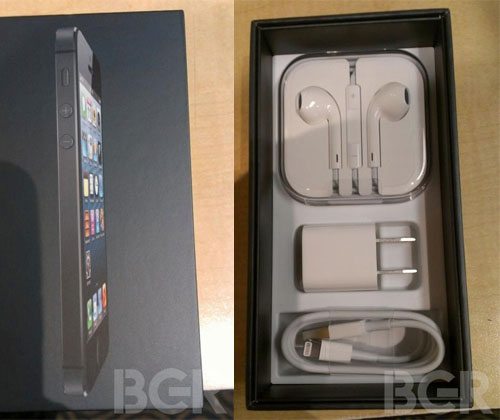 For one, that's a new charger that has been redesigned to deliver more power to the iPhone while charging via the Lightning cable. The Lightning to USB cable is packaged along with Apple's completely revamped EarPods with remote. iPhone 5 owners will get the same EarPod carrying case that comes when they are purchased separately.
Other than the accessories, the packaging is similar to that of the iPhone 4S. Maybe the box is a little taller to accomodate the larger profile of the iPhone 5. Other photos showed the black iPhone 5 covered in original shipping plastic next to a shorter iPhone 4S. Just remember, if you're thinking about reselling your iPhone 5 in the future, it could help to keep the packaging. A used iPhone can fetch more money in some venues.
Now that the first iPhone 5 unboxing photos have been revealed, is there anything else to look forward to besides the delivery truck on Friday?