Submitted by Frank Macey on
Apple is taking no chances with its storefronts this week, with a major hurricane bearing down on the northeastern US. 35 retail locations are directly in the path of the storm, and Apple has reportedly taken precautions at up to 50 stores in anticipation of dangerous weather. Several of these locations are temporarily closed due to high winds and the threat of flooding coming along with hurricane Sandy.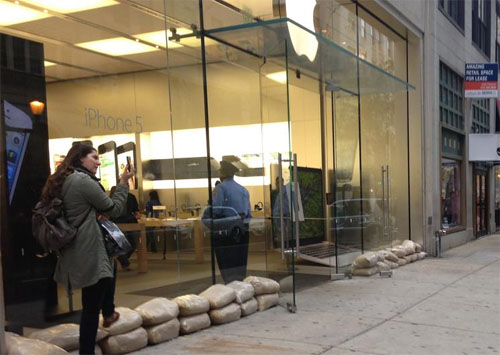 The photo above from Vince Lattanzio shows sandbag installations to prevent flooding at the Philadelphia Apple Store in Center City. There's no need to say that water and electricity don't mix, and Apple's stores could be particularly vulnerable thanks to in-floor electrical outlets and wood displays.
Reports indicate Apple has wrapped products in plastic to prevent water damage and even taped or boarded up glass windows in some locations. Many Apple stores have all-glass front walls, which could be damaged by flying objects propelled by 80-mph winds. Depending on local weather conditions, affected locations could be closed Monday and Tuesday during the storm's peak.
Similar preparations are taking place at Maryland and Washington DC Apple Stores, along with the flagship Fifth Avenue store in NYC. This location is underground, and New York's MTA has already suspended subway service due to fears of widespread flooding on Manhattan.
Check out the
top 5 iOS apps for storms and hurricanes
.