Submitted by Frank Macey on
Children have a habit of destroying electronic devices. Ask any parent who has loaned their iPhone or iPod touch to a kid so they could play games. Wouldn't it be better if you could protect the iOS device while providing educational entertainment to the little spuds?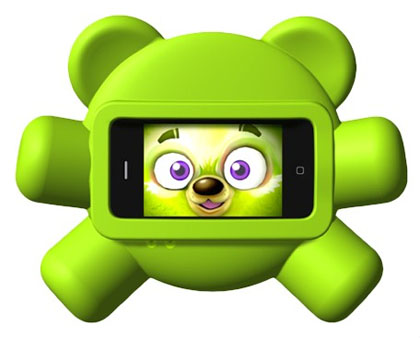 iBuku Pets provides just that, a protective and friendly contraption shaped like a bear that cradles the iPhone inside and prevents damage. Apparently, you can even throw your iBuku Pet down the stairs without harming the iOS device inside. The toy is made of completely non-toxic material, unlike some toys out there today.
The design of the iBuku Pet not only protects the iPhone inside, but it has a storage area for cables. The case is shaped to amplify sound from the iPhone speaker and provides easy access to the device when it's time to charge or sync. Thanks to its appendages, the iBuku Pet is easy for little kids to hold while they're getting massive doses of screen time.
iBuku Pets provide two free apps that go along with the design of the case, which have several related characters and a story. Of course, you can allow your children to play any game you want while the iPhone is fitted inside the iBuku Pet. You might want to remove the iBuku Pet before loading up Modern Combat 4: Zero Hour after they go to bed.
iBuku Pets can be purchased for $24.99 in green or pink directly from the
iBuku Pets website
. The toy is also a great way to re-use an old iOS device that hasn't already been smashed to bits.