Submitted by Frank Macey on
Rewind to the 1980s with the perfect gift to complement the iPhone. Music fans will enjoy the throwback look and feel of the portable speaker known as the iRecorder. Tactile buttons provide volume control, track skipping and play/stop functionality with the iOS device loaded into the old school cassette tape compartment.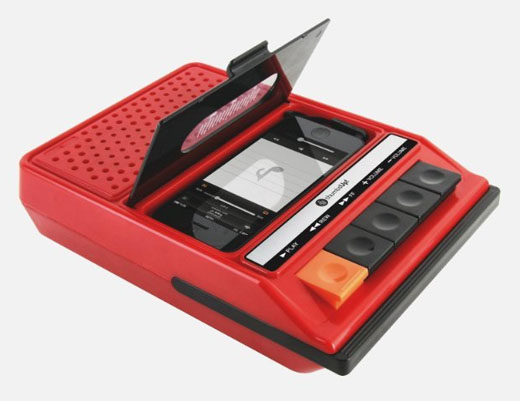 To connect the iPhone to the iRecorder, a 3.5mm jack is provided. Plug into the headphone port on the iPhone, then insert the iOS device into the cassette compartment. Close the tape door, pull out the retractable handle, and your tunes are ready to go anywhere. The iRecorder fits both the iPhone 5/5s and iPhone 4/4s body styles.
When it comes to portable power, three AA batteries (not included) operate the iRecorder. Alternatively, the retro player can be plugged in using a micro-USB cable. The iRecorder iPhone speaker comes in one color: bright red with black accents. Although this iPhone accessory won't record, it features an orange play button for effect.
We haven't heard the speaker in action, however in this case looks are definitely more important than sound. The iRecorder iPhone speaker can be purchased from Fancy for $50. Shipping time is 2-3 weeks.