Submitted by Frank Macey on
More iOS games? Could it be a better week for iPhone and iPod touch gaming enthusiasts? This week has already seen announcements of Grand Theft Auto Vice City, Final Fantasy IV, and brand new levels in Angry Birds Seasons. Now Gameloft has added Modern Combat 4: Zero Hour to the list of iOS titles available on the App Store.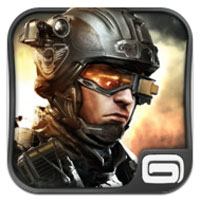 Thanks to use of the Havok Engine, Gameloft has been touting the mobile graphics in the game as nothing less than console-quality. Sure, the game might set you back $6.99 on iTunes, but there's a reason why it's been known as the number one FPS.
First off, Modern Combat 4 is optimized for the iPhone 5, so no pixels will be wasted on the larger display. According to Gameloft, console-quality graphics and sound mean lifelike animations, dynamic objects and the most realistic vehicles ever. Sound and voice acting is also top notch, performed by a well-known movie studio.
The plot involves an elite group of soldiers who have to rescue the world's leaders from terrorists after a nuclear disaster strikes. Players will engage the enemy in scenes located all over the world, and can also choose to play the villain. Multiplayer mode has been completely redesigned and includes a new specialization system and revamped rankings.
All those cutting-edge mobile graphics will take up some room. Modern Combat 4: Zero Hour requires 1.44 GB of free space on your iOS device running iOS 4.3 or later.