Submitted by Marshall Walker on
The 2014-15 NFL football season has officially kicked off and that means it is time to prepare for your fantasy football draft. Here's a quick look at all the fantasy football related apps, cheats sheets and draft kits recently updated for 2014.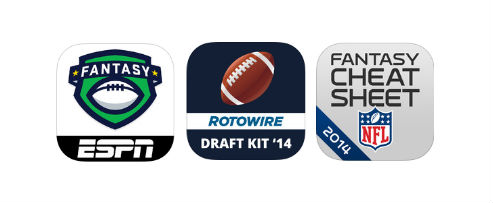 NFL Fantasy Football Cheat Sheet & Draft Kit 2014 ($4.99) ***App of the Week*** This is a one stop shop for everything you'll need for your fantasy football draft. It includes updated player rankings and the ability to keep track of multiple leagues.
ESPN Fantasy Football (Free) ESPN's official FF app is a great way to stay updated on trades, injuries, and scoring updates throughout the season. It also offers draft kits for auction and snake leagues, plus access to ESPN's Mock and Live Draft Lobbies.
RotoWire Fantasy Football Draft Kit 2014 ($4.99) This app offers cheat sheets that adjusts to your league settings and it allows you to easily keep track of players on the board so you know who to draft next.
Fantasy Football Pro
(Free) Draft kits and cheat sheets are a necessity, but it is also good to have a few backup opinions to help you make hard choices. This app offers tons of free tips from the top fantasy football experts.
Yahoo Fantasy Football... (Free) This app allows you to manage your Yahoo fantasy football team from your iPhone or iPad.
Just a quick note before we get to this week's new releases. Touch Arcade has an interesting post on how one of the most anticipated games of 2014, Godus, turned out to be a huge disappointment like Dungeon Master.
Here are this week's games, apps and jailbreak tweaks released to the App Store and Cydia through 08/03/14 to 08/09/14. Apple's Free App(s) of the Week are SketchBook Mobile and SketchBook Pro for iPad. The apps will be free on the Apple App Store until 08/14/14.
NFL Now: Free for the iPod touch, iPhone and iPad (Requires iOS 7.0 or later) Rated 4+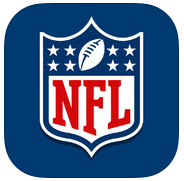 If you enjoy all those "exclusive video clips" found on most official sports apps then you will love NFL Now. The new app from the NFL gives users access to hundreds of videos of their favorite team team tailored by their viewing habits. It also promises to feature the "deepest NFL video library anywhere" and includes AirPlay support. The app is free to download but it is $1.99 a month to access its premium content.
Dragon Quest IV Chapters of the Chosen: $14.99 for the iPod touch, iPhone and iPad (Requires iOS 7.0 or later) Rated 9+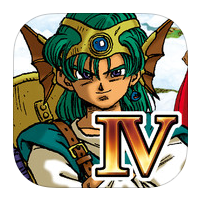 A port of the 2007 Nintendo DS remake, the iOS version of Dragon Quest IV brings back the group chat option and adds improved 3D backgrounds. The game also features the bonus sixth dungeon found on both the original PlayStation and DS games. For those who have never played Dragon Quest, it's an RPG with a turn-based battle system like Final Fantasy.
Alter: $0.99 for the iPod touch, iPhone and iPad (Requires iOS 7.0 or later) Rated 4+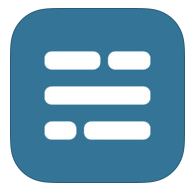 This is an interesting app that allows you to create a list out of any text on your device. For example, if someone texts you some items to pick up for a party, you can cut and paste their message into the app, and Alter will convert it into a list that you can check off as you do your shopping.
Godus: Free for the iPod touch, iPhone and iPad (Requires iOS 7.0 or later) Rated 4+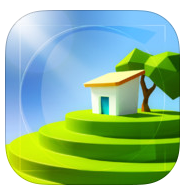 This is the game briefly mentioned above that is getting bad reviews from the internet, according to Touch Arcade, however the official App Store rating is 5 1/2 stars. The problem is that the game was funded on Kickstarter, and the hardcore gamers who funded it are not happy that it turned out to be a micro-transaction nightmare where it takes 5 hours to grow some wheat. If you don't mind timers, and like sandbox, resource management games, you may want to give Godus a look. It's free, so you can always delete it later if you dislike it.
Time Tangle - Adventure Time: $2.99 iPod touch, iPhone and iPad (Requires iOS 7 or later) Rated 9+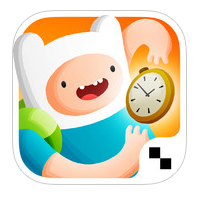 Punch stuff!!! Cartoon Network's latest game based on its hit show Adventure Time features infinite quests where you "battle bad guys, save peeps, collect sandwiches, and rebuild spacetime".
More App Store Releases *The listed prices are launch prices and are subject to change.
- Genio Quiz: $1.99 (Universal) Challenge your friend to see who is faster and smarter in this 100 questions game. Use your brain to get as far as you can in this game
- 82nd & Fifth from the Met: Free (iPad) Recorded talks from 100 museum curators about 100 pieces of art
- Zombie High Dive: Free (Universal) Take the plunge in Zombie High Dive where the dead get gory for glory
- National Geographic's DEEPSEA CHALLENGE: $3.99 (Universal) Take James Cameron's place as the pilot of the Deepsea Challenger
- SNIPP3T: Free (Universal) Celebrity gossip app from Microsoft
- Run Forrest Run: Free (Universal) Endless runner based on Forrest Gump
- Assault Vector: $1.99 (Universal) Turn based strategy game set in space
- Boshi: $0.99: (Universal) Avoid wolves as you try to chop down trees
- Brave Furries: $0.99 (Universal)
- Bugs vs. Aliens: Free (Universal) Lead a team of bugs heroes against an alien invasion in this physics-powered 3D-action title
- Catchup: $2.99 (Universal) Abstract strategy game
- Clima: $0.99 (Universal) Weather app
- Professor: $5.99 (iPad) Virtual analog polyphonic virtual analog synth inspired by the legendary sequential circuits prophetV
- Rules: $1.99 (Universal) Cute puzzle game
- Space Colors: $0.99 (Universal) Take the fight into space in this action/adventure space shooter rogue-like
- Scooby Doo! & Looney Tunes Cartoon Universe: Arcade: $4.99 (Universal) Create and customize your own cartoon character, then step into the Warner Bros. cartoon universe
- Frontier Heroes – A Planet H game from HISTORY: $2.99 (Universal) Explore five exciting eras of American history through dozens of mini-games
- Sago Mini Friends: $2.99 (Universal) Go on a playdate with your favourite Sago Mini friends
New Cydia Tweaks
- TwitConfirm (Free) Reduce accidental actions on Twitter
- Chroma (Free) Colorize iOS in one-step
- Brightness Activator 2 (Free) Fully customize any Activator gesture to increase or decrease the brightness level
- vHome (Free) Add a virtual Home and Sleep button to your device
- BlowToUnlock (Free) Unlock your device by blowing into the microphone
Noteworthy App Updates
- Fantastical 2 for iPad Version 2.1.1 adds Dolphin browser support and other new features
Game Trailers / Previews
Bioshock for iOS Preview