Submitted by Bob Bhatnagar on
There's an ever-expanding list of ways to customize the iPhone unlock for jailbreakers. Users with iOS devices that are not equipped with Touch ID can find some of these mods incredibly useful. The latest addition to the list is a tweak called BlowToUnlock.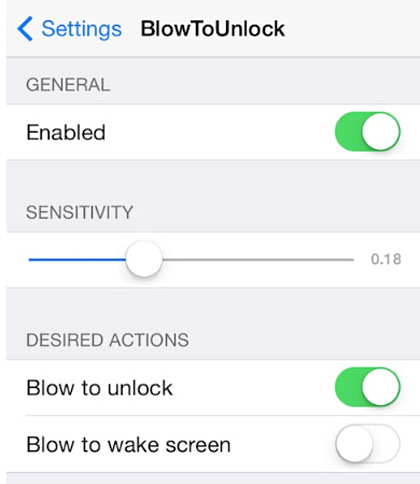 This unique method of unlocking the iPhone is similar to Balloonimals but not as fun. Instead of the descriptive term "useful," the word "novelty" is more appropriate for this tweak. The best part about BlowToUnlock is that the developer has released the package free of charge.
Quite simply, BlowToUnlock makes it possible to blow into the device's microphone to unlock iOS 7. If a passcode is set, the user will be prompted for the correct digits before the home screen appears. Settings include a toggle to enable the tweak, a sensitivity setting for the wind noise, and toggles for desired actions. BlowToUnlock can be used to unlock the device or just wake the screen.
One nice touch is that BlowToUnlock will automatically disable if iOS is already playing or recording audio. Higher sensitivity will reduce the volume needed to unlock the device, so watch out for background noise. Unlocking can be a truly hands-free experience with BlowToUnlock.
BlowToUnlock is available on Cydia from the BigBoss repo for free. Jailbreaking
iOS 7.1.x is now possible with Pangu
. Check here for
instructions on how to jailbreak iOS 7.0.x with evasi0n 7
. You can also find out
how to purchase and install Cydia tweaks with this guide
.