Submitted by Bob Bhatnagar on
One of the cool things about switching off the simple passcode in iOS 7.1 is a new keyboard design that shows up on the lock screen. This special keyboard only arrives when the user is prompted for a complex passcode, one that includes numbers and letters. Now those with jailbroken devices can install the lock screen keyboard across the entire iOS 7.1 system.

The keyboard itself features transparent keys entirely outlined in white, on a dark background. LockKeyboard is the name of the tweak, which will replace the default iOS 7.1 keyboard with the lock screen keyboard at all times. Once installed, there are no settings or options at all. The new keyboard just appears in any app that needs keyboard input.
Of course, to use this tweak, iOS 7.1 or later must be installed on the jailbroken device. In order to remove the lock screen keyboard, the tweak must be uninstalled using Cydia. Check here for instructions on how to remove a tweak or app using Cydia.
To install this free tweak, the Cydia repository http://cydia.hbang.ws/ must be added to Sources in Cydia. This repo is not listed by default. Find step-by-step instructions on how to add a repository to Cydia here.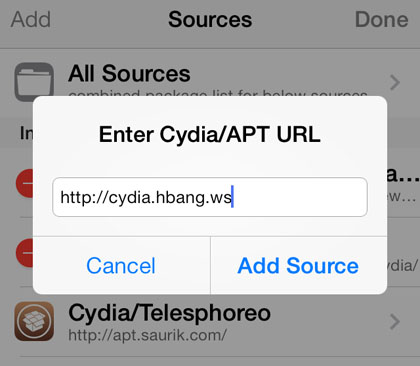 Once the repo is added, find LockKeyboard using the Search function or by browsing the source directly in Cydia -> Sources -> HASHBANG Productions.
LockKeyboard is available on Cydia from the HASHBANG Productions repo for free. Jailbreak iOS 7.1.x with Pangu to start customizing iOS. You can also find out how to purchase and install Cydia tweaks with this guide.