Submitted by Sammy Snyder on
Mobile devices have changed our lives in many ways but their most important contribution to humanity is eliminating the need for paper cheat sheets at Fantasy Football drafts. Fantasy Football apps have made drafts so much simpler now that you can just download them to your iPhone or iPad. The only question that remains is which Fantasy Football app is the most useful. I really haven't come across a Fantasy Football app that was useless, but the one I keep finding myself downloading every year is the NFL Fantasy Football Cheat Sheet and Draft Kit.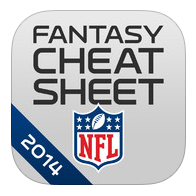 The official NFL FF app allows you to customize and keep track of multiple leagues. For example, you can set the type of draft for each of your leagues (auction or serpentine) the amount of rounds, teams and players per team. The app also allows you to fill in your competitors' teams and rosters and keep track of what each owner spent per player in an auction draft.
The best part about Fantasy Football apps is that they help you keep track of what players are still available and give you suggestions on the next best selection. This especially comes in handy for Fantasy Football owners who like to consume lots of alcohol during their draft. We've all been there before, drunk and confused surrounded by hundreds of beer stained sheets of paper with no idea what players are left on the board.
The NFL Fantasy Football Cheat Sheet and Draft Kit does all these things and more. It features an easy-to-use interface that allows you to separate players by position or quickly search by a player's name, which is very handy during auctions drafts. It also gives you up-to-date injury news and player rankings, player ages, strength of schedule and team offense rankings.
You can use swipe or touch controls to quickly assign players to a team or add them to a wishlist, and it is easy to edit mistakes when you screw up. There is even an option to assign keepers in a keeper league, and you can use value based and projected fantasy points rankings when trying to reach a decision on what player to draft next.
The League settings also includes the option for flex players, IDP (Individual Defensive Players) and the ability to run a mock draft against an AI. I can't think of anything else you would need in a Fantasy Football app.
NFL Fantasy Football Cheat Sheet & Draft Kit 2014 is available now on the App Store for $4.99.