Update: Click here for list of 2017 fantasy football apps with updated links.
With the NFL season quickly approaching, fantasy leagues across the nation are gathering for their drafts, where they will pick the players they think will lead them to victory. As any seasoned fantasy football veteran knows, up-to-date information about players is absolutely vital, so magazines with ten week old info aren't going to cut it. You don't want to be the guy/gal who drafts the stud who just got a six game suspension for substance abuse, or a potentially great qb whose line is suddenly in shambles. You need the latest news to compete, not just for the draft but for setting your weekly lineup and making waiver wire moves throughout the season, which are arguably more important than the draft. The best way to stay on top of the situation is with an app, and there are plenty of them out there. Here are four noteworthy apps to consider. They aren't all free, but what's $5 if you've paid $100+ for your league?
ESPN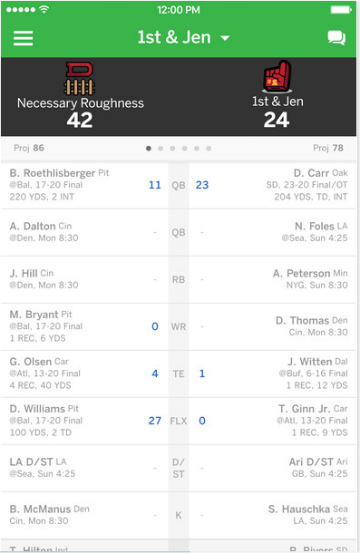 ESPN's app
offers everything you need for a fantasy league - you can create a league and hold an online draft, and it is free. The app also gives access to tons of content including mock draft results, player rankings, analysis by ESPN's fantasy gurus, projected scores and more. The app is well designed and easy to use, allowing you to quickly access information and make last minute lineup changes. Some of the highlighted features include:
Create a league to play with friends or join an existing league to play with other fans.
Sign up, draft your team, edit your lineup, add players and make trades.
Get player rankings, projections and analysis from Matthew Berry and the rest of the most trusted team in fantasy sports.
Follow your fantasy (and favorite professional teams) with live, real-time matchup and pro game scoring.
Customize your team with a logo from one of our many free logo packs.
Subscribe to push notifications to get the latest videos and news impacting your roster.
Receive weekly wrap-up emails to track your performance.
If you are into other fantasy sports, ESPN offers the same for baseball, hockey and basketball as well.
RotoWire Fantasy Football Draft Kit 2016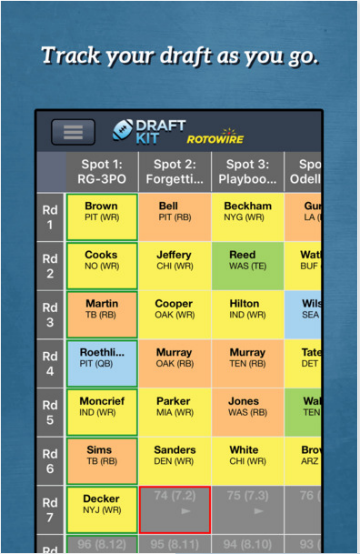 As the name implies, RotoWire's app has all the tools you will need to have a successful draft. It isn't set up for running a league like ESPN, but it has loads of crucial, up-to-date information and tools to use during your draft, including:
A cheat sheet that ranks players based on projected stats for 2016 using your league's settings.
The cheat sheet is a Value Based Drafting method that accounts for your league's categories, roster, etc.
For drafts: The ability to manually rank players to your preference.
Mock drafts against AI.
RotoWire.com outlooks for the 2016 season for hundreds of players. You can't get that in ANY other app.
Recent news and analysis for players.
Projected Standings for your league.
We offer the ability to tier players or mark them as sleepers or busts.
Notes can be added on each player.
Functionality that lets you easily keep track of who has been drafted.
Team depth charts.
Projected stats for the 2016 season.
Player stats from the last three seasons.
The ability to download updated news and stat projections until the start of the 2016 season.
Individual defensive player rankings.
Ability to use Team QB and Team K in your roster.
Current fantasy football articles from RotoWire.com experts.
The cheat sheet isn't ordered just by projected point totals, we calculate player rankings based on your league's settings.
These guys are pros at what they do, with many awards and a Sirius-XM radio show that has been on for several years now, so you know they aren't a fly-by-night operation. RotoWire's Draft Kit is $4.99.
Footballguys Fantasy Football Draft Dominator 2016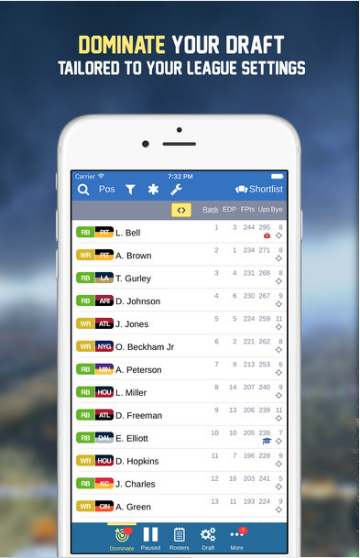 The Footballguys also have a proven track record. With over 60 experts on staff, their app offers the latest info and analysis on all of your potential draft picks. Like RotoWire's, this app is a draft day tool with all kinds of useful features for many types of leagues/scoring systems:
Customize to your fantasy football league settings.
Easy to track the progress of your fantasy football draft.
Mock draft to prepare for every scenario - never see the same draft twice.
Review your fantasy football draft with our unique Rate My Team system.
Constant data updates and analysis into September - new projections, ADP, news, rankings, outlooks, depth charts and tags.
Add players to watch or avoid lists, or add notes to their profile.
Player tiers created for you, specifically for your league's settings.
Allows for PPR.
Auctions, snake drafts and fully customizable draft orders.
All offensive positions (QB, RB, WR, TE, WR+TE combined, RB/WR flex, RB/WR/TE flex, QB/RB/WR/TE flex, PK)
• IDP (DL, LB, DB, DE, DT, OLB, ILB, CB, S, any IDP).
Keepers.
Highly advanced scoring: distance scoring for touchdowns, yardage bonuses, ability to enter fully customizable scoring rules.
Scoring can be defined differently by position (ie TEs = 1.5 PPR, while RBs = 1 PPR).
The Draft Dominator 2016 is $4.99.
Fantasy Football Draft Wizard by FantasyPros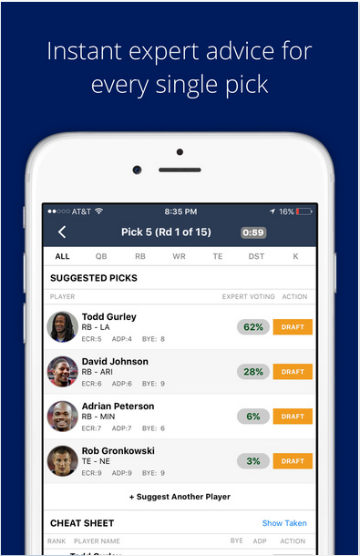 Another fan favorite year in and year out, the Draft Wizard is also a draft day toolkit with everything you'll need:
Run mock draft simulations to practice for your real fantasy football draft.
See who the experts would draft for every single pick to help you make the best possible decision.
Built in cheat sheets based on our ECR (Expert Consensus Rankings) and ADP (Average Draft Position).
See how you performed after each draft to identify your strengths and weaknesses.
Enter draft pick selections from your real draft to get expert advice on who to pick for your team.
Sync with your live draft to get expert advice on who to pick for each round, while your draft unfolds in real-time. Drafted players will be automatically tracked for you.
Configure your own league settings, select the number of teams, players, positions, and scoring system (Points or PPR).
Simulate your real draft by importing league settings from your favorite league host.
No internet connection needed, just open up the app and start drafting at your own convenience.
One potential drawback is that this app doesn't support auction drafts. On the bright side, it is free with in-app purchases for some of the more advanced features like keeper league support.