Submitted by Frank Macey on
Finally a simple way to add reminders and lists of tasks to the home screen on any iOS device. We've already covered the jailbreak tweak Reminders+ which allows reminders to be pinned to the lock screen. Now those with iPhones that are not jailbroken can enjoy similar convenience from a free app.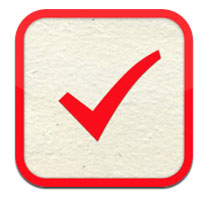 Task Paper (not the similarly named TaskPaper, which costs $4.99) can be installed from the App Store and provides a simple way to keep your reminders visible on the lock screen. The app works by creating your list of tasks using pre-set backgrounds or your own wallpaper, then generating a custom lock screen wallpaper containing all of the information.
Task Paper makes it possible to create and manage multiple lists, email your tasks and create multiple wallpapers for the lock screen for todo lists. As you complete or modify tasks you can edit, delete and reorder items on the list and pin them all to the lock screen.
All of the reminder lists you create with Task Paper can be saved as a lock screen wallpaper, so you never forget what needs to be done, every time you pull up your iPhone lock screen. There are ten built-in wallpapers and you can choose what color text to use for your task lists. Checking off items that are completed and creating new task lists is simple. You can even use your own photos as a background for the lock screen reminders.
Task Paper
can be installed from the App Store on iOS 6 and later for free.