Submitted by Bob Bhatnagar on
When you're not within range of a Wi-Fi network, there are some things your iPhone won't let happen. For example, Apple will only allow downloads of apps larger than 50 MB over Wi-Fi. 3G Unrestrictor is a tweak designed to remove these restrictions on what you can and can't do with the cellular data plan for which you're already paying handsomely.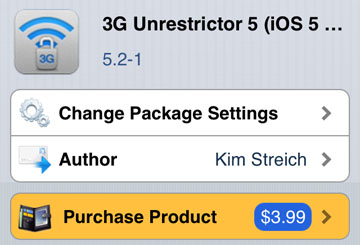 FaceTime calls over LTE? No problem no matter who your carrier is when 3G Unrestrictor is installed. Your device must be jailbroken but once you have the tweak, FaceTime, iCloud, and almost all third-party apps won't know the difference whether you're connected to a cellular or Wi-Fi network for data.
Although using the app could circumvent the rules set up by Apple and your cellular carrier, the developer is not aware of any cases where 3G Unrestrictor caused trouble. This tweak does not provide the ability to tether another device such as a notebook computer to your cellular data connection. It only makes it possible to use apps normally restricted to Wi-Fi over your LTE, 3G, EDGE or GPRS connection.
According to the developer, 3G Unrestrictor allows you while connected to cellular data networks to:
- Make and receive FaceTime calls
- Use iCloud's Photo Stream
- Automatically backup to iCloud
- Watch high quality YouTube videos
- Download apps larger than 50 MB from the App Store
- Download music, movies, TV shows and podcasts larger than 50 MB from iTunes
- Play online games that are normally restricted to Wi-Fi
- Use almost any third-party app with a cellular data connection
All iPhones and iPads running iOS 4.0 or later are supported by the tweak. 3G Unrestrictor is available from the BigBoss repo on the Cydia jailbreak app store for $3.99.