Submitted by Chad Shmukler on
Shape Services, the company who recently brought Skype to the iPhone via their IM+ for Skype application, is back with another eye catching offering. This time, Shape Services is delivering a version of their RDM+ software for the iPhone.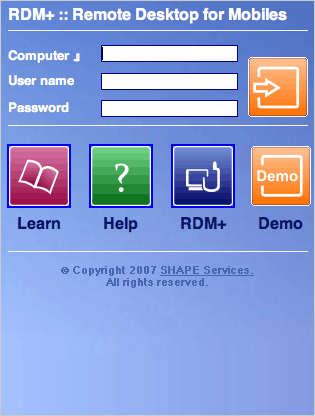 RDM, which stands for Remote Desktop for Mobiles, is a remote PC access software designed to
give you access to your desktop, files, network connections, and more - all from your mobile phone. According to Shape Services,
Remote Desktop for Mobiles allows you to access your computer from mobile device remotely. You can send and receive emails, surf web, edit documents with word processor, copy, cut, paste files or folders and do hundreds other things that you typically do sitting in front of your home or office computer.
Until recently, RDM+ was available only for Java compatible or Windows Mobile phones, but is now available for the iPhone as well.
RDM+ for the iPhone is still in a beta stage, and is offered up by Shape Services as is. Beta testing the software is free and open to the public. Additionally, the company has reportedly stated that most, if not all, beta testers will receive a free license once testing is complete.
Installation and use of RDM+ seems to be a relatively straightforward 2 step process.
1) Install RDM+ on the PC you want to access remotely (you can download RDM+ at www.rdmplus.com/download. During installation, your computer will be assigned a unique remote computer number which you'll use in step #2.
2) Visit iphone.rdmplus.com from your iPhone and login
If you're not sure RDM+ is for you, there's even an online demo available at iphone.rdmplus.com, though it doesn't seem to be working at the time.