Submitted by Bob Bhatnagar on
Badges in iOS are great. They let you know when something important needs your attention, keep a count of unread emails, and can even tell you the temperature outside. But do you have too many badges floating around? All those red circles on every app icon can start to look like noise.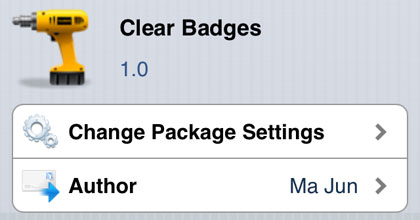 Now jailbroken iPhone users can quickly clean up extra badges with the tweak Clear Badges. This free tweak makes it simple to temporarily clear an annoying red badge number. Just hold down an app icon to enter wiggle mode on the home screen. Double tapping the offending icon while its wiggling will clear the badge immediately.
Want your badge back? Say for example you clear the Mail badge. Just open the Mail application and when you return to the home screen the badge indicating unread messages will reappear. It's that easy.
Clear Badges is available on Cydia from the BigBoss repo free of charge. Check here for instructions on how to jailbreak iOS 6.x with evasi0n. You can also find out how to purchase and install Cydia tweaks with this guide.