Submitted by Bob Bhatnagar on
Some iPhone jailbreakers like to get as much information from their iOS devices as possible. There are statistics available under Settings, but the most interesting stuff requires tweaks that allow the user to look under the hood. One such tweak is iBatteryInfo.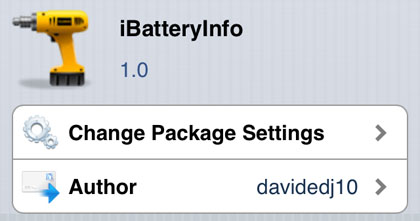 iBatteryInfo does one thing, and does it well. Once installed, the tweak can be enabled from Settings -> iBatteryStatus. Every time you plug in or unplug your iOS device for charging, a list of details about the battery and connected cable will appear. The list explains the total capacity of your battery and what level of charge has been achieved.
In addition to current mAh and maximum capacity mAh, iBatteryInfo lets you know whether or not the battery is fully charged, how many charge cycles the battery has been through, and the serial number of the battery inside your device. When it comes to the cable that's connected, when plugging in the wattage and amperage output in mAh is displayed as well.
If it's more information you're after, iBatteryInfo will fill in some gaps about your battery and the charging process, conveniently displaying the pop-up whenever you go to charge.
iBatteryInfo is available on Cydia from the BigBoss repo free of charge. Check here for
instructions on how to jailbreak iOS 6.x with evasi0n
. You can also find out
how to purchase and install Cydia tweaks with this guide
.