Submitted by Bob Bhatnagar on
Flusterless is a jailbreak tweak designed for convenience. iPhone users running iOS 6 who frequently use the Do Not Disturb (DND) feature will enjoy quick access to enable and disable DND as quickly as possible. A sliding toggle is accessible directly from the lock screen, just to the left of the clock.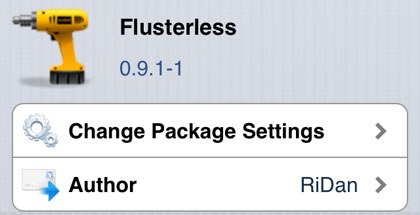 Slide the grabber to the right and a moon symbol will appear to denote DND mode is active. Slide the grabber to the right again and you'll see a white circle, meaning that DND mode has been disengaged. Having this one-step access to DND sure beats unlocking and navigating to Settings -> Do Not Disturb.
There are other options available for DND toggles such as NCSettings, however Flusterless is the quickest and simplest. The only thing to watch out for is that some other tweaks such as IntelliScreenX could interfere with the Flusterless grabber. Sliding to activate DND mode sometimes accidentally pulls down the Notification Center on the lock screen. This is easily solved by carefully sliding the Flusterless grabber over and up, or by switching Activator actions.
Flusterless is available on Cydia from the BigBoss repo free of charge. Check here for instructions on how to jailbreak iOS 6.x with evasi0n. You can also find out how to purchase and install Cydia tweaks with this guide.