Submitted by Bob Bhatnagar on
Read receipts are a nice feature of iMessage, allowing others to know exactly when their outgoing messages are viewed. On the other hand, for some privacy-minded iPhone owners, giving everyone this information might feel a little too invasive. iOS does give the option to disable the feature for all messages.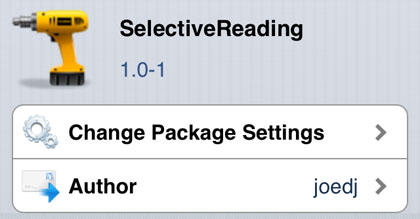 SelectiveReading takes things further, providing more detailed options under Settings -> Messages -> Send Read Receipts. The tweak offers to ask whether or not to send a read receipt every time, although this could result in many dialog boxes for people who receive a lot of iMessages. The real gem is the Contacts Can Override feature.
By enabling this toggle, specific contacts can be selected and the default iMessage read receipt behavior for these individuals is customized. For example, with the default Send Read Receipts option set to Off, nobody will receive read receipts when you read their incoming iMessage. Using Contacts Can Override, you can select a person and choose to turn on read receipts just for them. This way you know exactly who is being delivered the time at which you've read their message.
SelectiveReading is available on Cydia from the BigBoss repo for $0.99. Check here for instructions on how to jailbreak iOS 6.x with evasi0n. You can also find out how to purchase and install Cydia tweaks with this guide.