Submitted by Anders Batten on
Flipboard version 2.0 has been released for iOS devices (Android users will have to wait another month). The upgrade allows users to save their favorite articles, photos, audio and video in folders called "Magazines". Users can keep their magazines private or share them with family and friends via Twitter or email.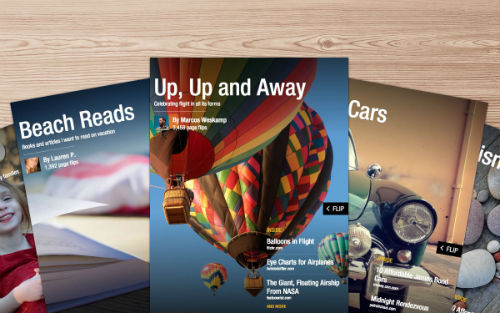 Creating a magazine is easy: Just tap the + button at the bottom of any article and write a title and description for your magazine. Your magazine and saved articles will then be stored under the "My Flipboard" panel in the Options Menu. To share a magazine, just tap its cover under the "My Magazines" section, and select share. This is a great tool for saving articles you don't have time to read or finish reading.
Flipboard is a must have iOS app that allows you to keep updated on various topics that interest you. Categories like News, Entertainment, Sports and so on are divided into boards featuring various news sources you can flip through. You can also incorporate your Twitter or Facebook news feeds into the app. Flipboard is great way to stay on top of subjects you love, and the perfect time killer for long lines, office visits, or public transportation. The universal iOS app is free to download from the App Store. Version 2.0 requires iOS 5 or higher.
Here are some other highlights of version 2.0 from the Inside Flipboard Blog:
- A new, visual Content Guide. Tap the Red Ribbon and you'll see your own table of contents, all the magazines you've created, Notifications and lots of other goodies for you to peruse.
- Commenting on Flipboard. Inside a story, tap the source's avatar in the lower left-hand corner, to reveal Flipboard Comments. Draw in other Flipboard users with @mentions.
- Recommended Reading. In Cover Stories, you'll find More to Read, a personalized list of things we think you'll love, drawn from your social interactions.
- Subsections in partner magazines, newspapers and websites. On the second page of tablet editions, you'll find new sidebars listing subsections for easier navigation.
- Fast section switching. Tap the section name at the top of any page to reveal related content and subsections.
- Optional Facebook Open Graph integration, bringing your Flipboard activity to your Facebook page in more meaningful ways.