Submitted by Anders Batten on
Pre-orders for the iPhone 5 are now open at T-Mobile.com. You can purchase a shiny new iPhone 5 with no contract for $99 down and 24 payments of $20. That's $579 over two-years, and $70 less than buying an unlocked model directly from Apple.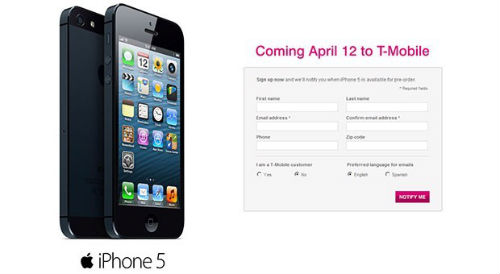 The 24 payments of $20 will be added on top of your monthly service charges. T-Mobile's Simple Choice plans start at $50 per month for unlimited talk, text and 500MB of data. Each additional 2GB of data is $10 up to 12.5GB for $110. The T-Mobile iPhone is locked, but you can trade it in for a new device at anytime for "fair market credit". This also means you will need T-Mobile's permission if you decide to switch carriers, and will be required to payoff any remaining balance that you owe for the device.
Pre-orders made through T-Mobile.com today will start shipping on April 12th.
The T-Mobile A1428 iPhone supports HSPA+ on AWS bands (1,700MHz and 2,100MHz) plus it's compatible with T-Mobile's newly launched 4G LTE network.