Submitted by Marshall Walker on
Apple has a strict no adult content policy for the App Store, but the recent increase of social sharing services is making it impossible for the company to police every app available for iOS devices. Apple recently pulled the popular photo-sharing app 500px because users were able to access nude images. The app was eventually allowed back into the App Store, but its removal prompted Apple to makes its App Store age ratings more visible to users. Some apps like the video sharing service Vine, have also been slapped with a 17+ rating due to people uploading adult content to their profiles. Luckily for parents there is a way to block children from downloading mature rated content, however, parents should still monitor what their children are doing with their mobile devices.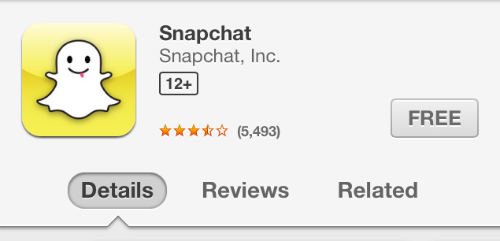 For example, Snapchat allows users to send pictures and texts that are deleted within seconds after being seen. The app has been criticized for misleading kids into thinking it's safe to send compromising photos because they will eventually disappear. However, anyone who knows how to take a screenshot can easily save an image sent to them through the app. Snapchat does alert the sender if a screenshot has been taken, but by that point the damage has already been done.
Snapchat has been rated 12+ for "Infrequent/Mild Sexual Content or Nudity", meaning a person could still download the app if the device's settings are only set to restrict 17+ rated apps. Apple's app restrictions are a great way to block children from downloading some mature content, but parents still need to be aware of how each individual app works.
Here's how to block mature movies, TV shows, books, music and apps from your iPhone, iPod touch, or iPad.
Open the
Settings
application and tap
General
then
Restrictions
. You will then be asked to enter a new four-digit passcode. Once you select your new passcode, you then be able to restrict ratings for Music & Podcasts, Movies, TV Shows, Books and Apps. You can also choose to turn off in-app purchases, and set the preferred ratings by country.