Submitted by Frank Macey on
Google has updated the iOS Google Search app to version 3.0. The biggest change adds Google Now capabilities to the app, providing information on the go in customized cards that are automatically generated. Instead of performing multiple searches for specific information throughout the day, Google Now can feed you the information you need at the right time or place.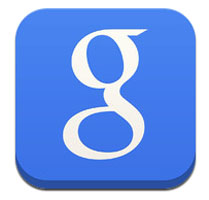 22 cards are now available on iOS, including traffic, weather, sports scores, appointments, flight schedules, transit schedules and more. Swiping up in the Google Search app is all it takes to bring up current cards to find information. Although Google Now on iOS does not feature push alerts at the current time, these are under development for a future version of Google Search.
The Google Official Blog had this to say:
Google Now is about giving you just the right information at just the right time. It can show you the day's weather as you get dressed in the morning, or alert you that there's heavy traffic between you and your butterfly-inducing date—so you'd better leave now! It can also share news updates on a story you've been following, remind you to leave for the airport so you can make your flight and much more. There's no digging required: cards appear at the moment you need them most—and the more you use Google Now, the more you get out of it.
From the App Store change list for Google Search 3.0 on iTunes:
- Get just the right information at just the right time with Google Now
- Weather and traffic conditions before you start your day
- Updates on your favorite sports teams and breaking news stories as they happen
Google Search can be downloaded free on iOS devices running iOS 5.0 or later.