Submitted by Anders Batten on
T-Mobile CEO John Legere told AllThingsD that a MetroPCS iPhone is possible, but not "imminent". T-Mobile acquired the carrier on Wednesday, and is already planning to launch MetroPCS-branded devices that also run on T-Mobile's network. Legere did not say what devices are in the works, but did say that an iPhone is not out of the question. When asked if an iPhone is coming to MetroPCS, Legere replied: "The answer to that is not 'No'". Legere also said a MetroPCS iPhone would have to involve Apple, before noting he had already reached out to T-Mobile partners.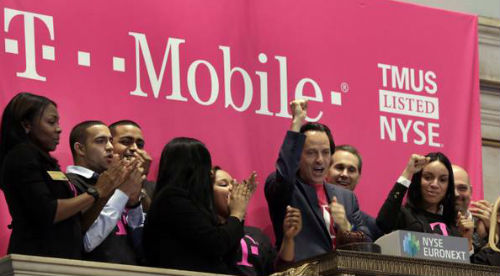 T-Mobile's main focus is merging the two brands, and moving into new cities by offering MetroPCS handsets on the T-Mobile network.
"This is about customer migration, not network integration," Legere said.
Legere told
AllThingsD
that T-Mobile is " working through a double-digit list of cities and plans to aggressively target new markets this year".
Legere also mentioned that T-Mobile's new "uncarrier" approach and iPhone sales have exceeded expectations.