Submitted by Chad Shmukler on
Though still an early beta, a GUI version of the iUnlock software is now available. Released yesterday, the iUnlock software provides a completely free Apple iPhone software unlock solution comparable to pay solution such as iPhoneSIMFree which can cost upwards of $100. This latest GUI version, Unlock.app, greatly simplifies the original iUnlock process.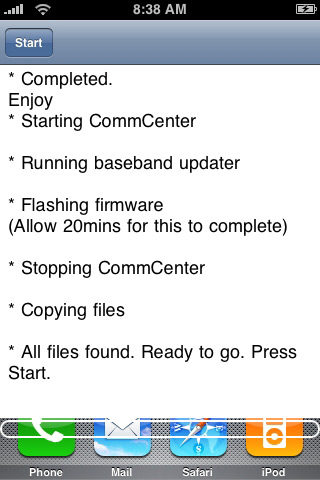 With Unlock.app, the steps to unlock the iPhone have been reduced from around 20 steps to 3. Using
the GUI version, the process appears to be as simple as
jailbreak iPhone using packages such as iBrickr, or a more manual approach
install Unlock.app
run Unlock.app
Once running, the process takes about 20 minutes to complete, after which your iPhone is unlocked. The developer of Unlock.app has also stated that an upcoming version of Unlock.app will shorten the unlock process to around 3-5 minutes.
Unlock.app is described as "buggy" at this point, but early response indicates that it is working perfectly fine for most people. For many people, even in an early, buggy state the GUI application will be a more viable option than the more lengthy, technical, manual process.
Full instructions and download links to Unlock.app can be found here.