Submitted by Frank Macey on
There's been a lot of talk about how Apple can improve the iPhone display. Ultimately, the goal is a lighter, brighter, thinner screen that extents battery life. Rumors have been floating around for some time surrounding Sharp's IGZO, however the technology has failed to surface on an Apple product to date. Now thanks to a new patent filing the possibility of an OLED (organic light-emitting diode) display has resurfaced.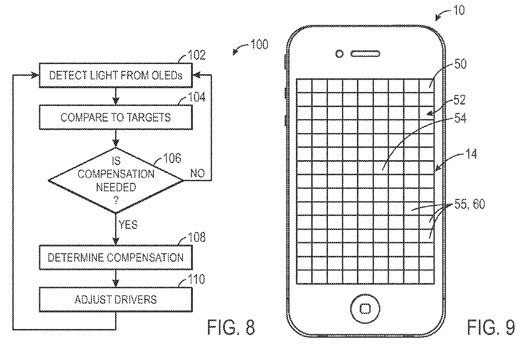 Although Samsung, among others, has already embraced the OLED thanks to its thin profile and power-sipping nature, it seems Apple plans to customize and improve on the technology before adding OLED to the iPhone. In the patent, Apple describes photodiode sensors embedded throughout the OLED display, which would serve to improve its function dynamically.
For example, if one section of the iPhone screen was covered by shade while outside, this area could be illuminated with less power than the rest of the OLED. Using the same sensors, an aging OLED that doesn't have the same level of brightness it used to can be adjusted to compensate over time. Instead of fading, the sensors would preserve long-term OLED brightness and color for the life of the iPhone.
This is just the beginning, as the same concept could be used to replace stand alone proximity sensors and ambient light sensors. If the OLED screen itself could adjust for brightness and detect when it was up against the user's face during a phone call, this would further shrink and simplify the iPhone hardware.
For now, the iPhone 5S is expected to have an improved processor, better camera and built-in biometric fingerprint scanning. No word yet on whether or not Apple is ready to implement the OLED patent in an upcoming device.