Submitted by Anders Batten on
Many of you are already using SummerBoard and it's accompanying theme "Leopard." While one of our favorite themes, the SummerBoard Leopard theme actually uses outdated wallpaper. If you'd like to update your iPhone Leopard look, read on.
You'll also find a link for the full size Leopard Aurora wallpaper at the end of this article.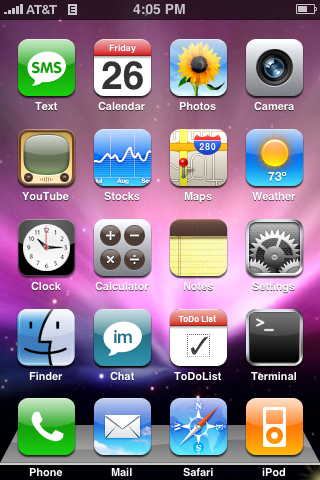 An iPhoneFAQ forum member, trumac, recently added an iPhone-sized version of the Leopard wallpaper to our
wallpaper forum. This latest Leopard wallpaper is the space scene (often also called Aurora Borealis) version of the Leopard wallpaper that Apple has been using most recently in it's demos of Leopard.
Above you can see a screenshot of the the wallpaper in use with the SummerBoard Leopard theme. Looks great.
Though we're still a few hours from the official release of Leopard, I'm quite sure this wallpaper has been floating around in full format somewhere. Regardless, thanks to trumac for posting an iPhone version.
Head here to get the wallpaper for your iPhone.
If you want the full size Leopard Aurora wallpaper you can get it here.