Submitted by Frank Macey on
The original Infinity Blade title is now free thanks to a Black Friday sale from Chair Entertainment. iOS gamers can download the award-winning game that started it all from the App Store and save $5.99, for a limited time. For comparison, sequels Infinity Blade II and Infinity Blade III are selling for $6.99 each.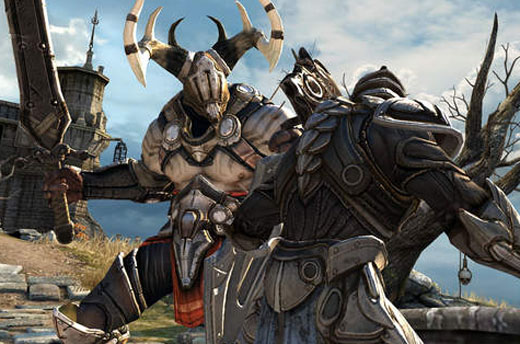 Chair made waves with the first in the series when the game was showcased by Apple during a keynote presentation. The original Infinity Blade uses the Epic Unreal Engine to create high resolution, realistic landscapes and creatures on iOS devices. The game has won over 20 Game of the Year and Top App awards, including the 2011 Apple Design Award.
For those who have yet to explore Infinity Blade, the game requires iOS 3.2 or later. Many devices are compatible, including the iPhone 3GS and later, iPod touch 3G and later, and all iPad models. Gamers can use Game Center for achievements, leaderboards and multiplayer challenges. When it comes to gameplay, here's the rundown from iTunes:
- Spectacular 3D characters and environments powered by the award-winning Unreal Engine 3 bring to life the story of a lone knight's pursuit to save civilization.
- Attack, dodge, block, and cast devastating spells - all with the simple swipe of a finger.
- Easy to use, tap-to-move controls enable players to effortlessly navigate and explore the castle realm while searching for collectable items such as treasure, swords, shields, armor and other magical objects.
- Dozens of Swords, Shields, Helmets, Armor, and Magic Rings to acquire and master - leveling up your character and increasing Attack, Health, Shield and Magic skills.
Now would be a great time to try Infinity Blade, while the sale remains in effect. Just make sure there's enough room on your iOS device before installing. Infinity Blade weighs in at a hefty 624 MB.