Submitted by Bob Bhatnagar on
Often one family member on an AT&T Mobility wireless plan is an early adopter, and must have the latest iPhone the minute it's available. Standard two-year contracts exceed the typical iPhone upgrade cycle, which is where a line swap comes into play. Staggering upgrade eligibility around 12 months apart means that someone on the plan gets a new iPhone every year.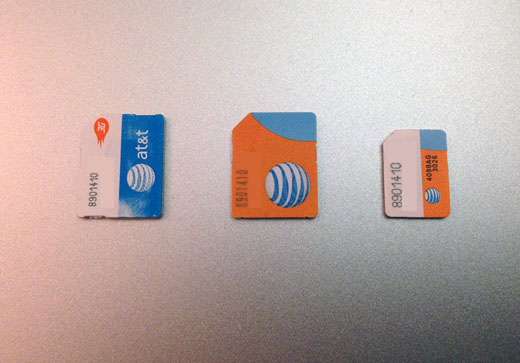 Officially, upgrading on an eligible line, then swapping the new device to another line on the same plan is called a "cross upgrade". Cross upgrading from the iPhone 5 to the 5s can be achieved without even contacting AT&T, although to match the phone numbers to the correct device a quick call to customer service (611) is recommended. AT&T condones the practice of cross upgrading, as long as the wireless plan bill is in good standing and there's a line currently eligible to upgrade.
Swapping an iPhone 5 for an iPhone 5s can be done at home, since both devices have a nano-SIM card. Let's say Susan has an iPhone 4 and is eligible for an upgrade. Jay will give Susan his iPhone 5 and take her iPhone 5s upgrade. Here are instructions:
1. Backup Susan's old iPhone 4 using iCloud or iTunes on the computer.
2. Activate Susan's new iPhone 5s (with her normal phone number).
3. Remove the SIM card from her old iPhone 4 and Erase All Content and Settings. Reuse, sell or recycle the old phone.
4. Take Jay's iPhone 5 and back it up using iCloud or iTunes.
5. Erase All Content and Settings on Jay's iPhone 5.
6. Swap SIM cards between the iPhone 5 and the iPhone 5s, linking Susan's phone number to the iPhone 5 and Jay's line to the iPhone 5s.
7. Restore both iPhones from backup using iCloud or iTunes.
8. Call AT&T customer service (611 from the iPhone) and tell them about the equipment swap.
A visit to the AT&T store will be necessary if swapping from an earlier model iPhone (pre-iPhone 5) to an iPhone 5 or later, since the SIM cards are different sizes. In this case, an AT&T representative can help by issuing new SIM cards that will associate the correct phone numbers with each iPhone. For those looking to trim down a micro-SIM to fit, note that older iPhone SIM cards don't support LTE.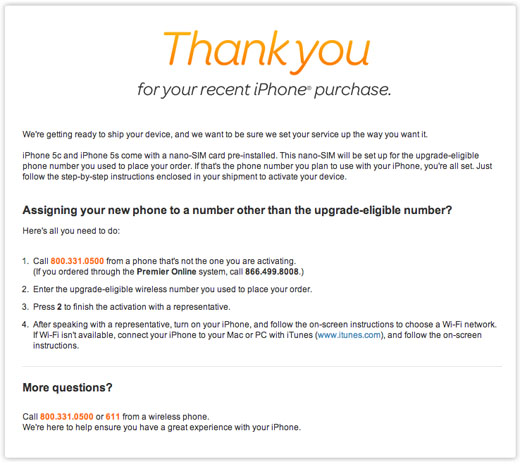 Finally, if you're only interested in assigning an upgrade to a different line on the same plan follow these steps:
1. Call 800-331-0500 (not from the wireless phone you're activating).
2. Enter the phone number used to place the upgrade order (the upgrade-eligible line).
3. Press 2 to complete the transfer process with an AT&T representative.
4. Activate the new iPhone using Wi-Fi or iTunes on the computer.
Like other carriers, AT&T now offers alternatives to the subsidized two-year contract. AT&T Next makes it possible to get a new device every year without cross upgrading, however subscribers must pay installments for the iPhone. There are no upgrade or financing fees, but older devices are traded in when upgrading.