Submitted by Fred Straker on
Need some last-minute shopping ideas this holiday season? Apple's got your back. iBooks can now be used to send digital books as gifts, in the same way music and apps can be gifted. Once received, the books can be read with the iBooks app on an iOS device or OS X Mavericks.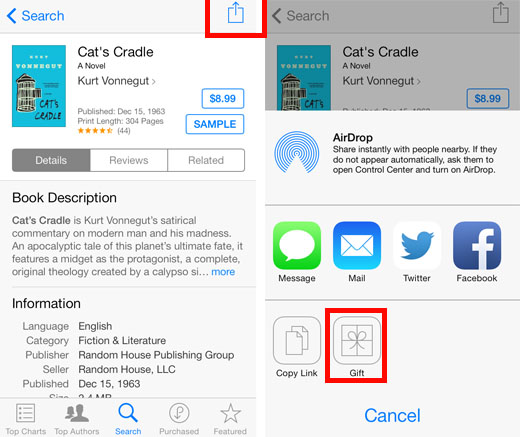 The new gifting functionality comes just in time for the holidays. To send a book using an iPhone, iPad or iPod touch, open the iBooks app and find the title you wish to send as a gift. Tap the share button in the upper right corner, then tap Gift from the pop-up menu options. Fill out the recipient's information, select a delivery date, and tap Next to continue.
iBooks then offers a choice of themes, which spruce up the appearance of the gift announcement email, and shows the front cover of the book. Once a theme is chosen, tap Next and transaction details will be listed. If everything looks correct under Confirm Your Gift, then press Buy to purchase the book. iBooks will charge your Apple ID and send the title to the lucky recipient.
Sending apps as gifts has been possible for several years, and iTunes gifting capabilities have been around even longer. It's not clear why it took until late 2013 for iBooks to get the feature, but avid readers and their friends will be happy.
If you haven't already, don't forget to
grab iBooks free from the App Store
.