Submitted by Bob Bhatnagar on
UPDATE: iPhone developer pod2g blogged that an upcoming Corona update will fix "iBooks and other softwares having sandbox issues." We will let you know when it's released.
When jailbreaking iOS there are sometimes caveats and unintended consequences, although normally for enthusiasts the advantages of running new software take precedence. iBooks fans might have found that after liberating their device with the latest redsn0w untethered iOS 5.0.1 jailbreak that iBooks ceases to work.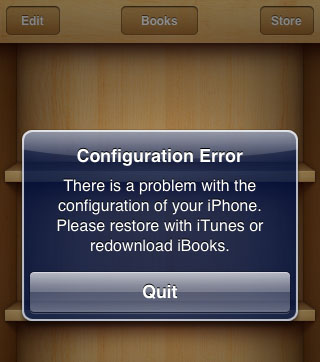 Now there's a package available in Cydia that should fix the problem. Some users have reported no luck with the fix, but our team was able to fix iBooks using the procedure below. As always, jailbreaking and installing non-Apple packages is performed on your iPhone at your own risk! Here are instructions to fix iBooks after jailbreaking.
1. Make sure you've jailbroken iOS 5.0.1 untethered with redsn0w or Corona
2. Open Cydia and navigate to Manage -> Sources
3. Tap the Edit button then tap the Add button
4. Enter the repository address repo.insanelyi.com and touch Add Source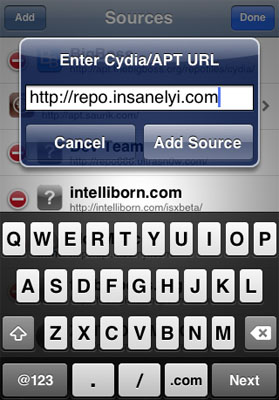 5. Read the warning and select Add Anyway to proceed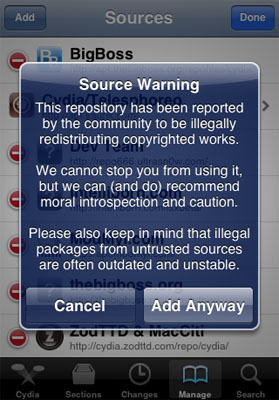 6. After the repository installs, use the Search function to find a package named iBooksFix2
7. Touch the Install button then tap Confirm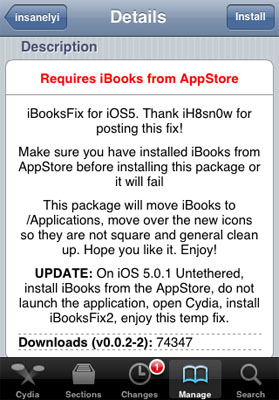 8. iBooksFix2 will install and move iBooks files to fix the configuration error
9. Touch the Restart Springboard button
10. Reboot your iPhone
11. iBooks should now be working normally again