Submitted by Marshall Walker on
Sonic & All-Stars Racing Transformed is now available for iOS devices. The game allows users to race as Sonic and 10 legendary racers from the Sonic the Hedgehog universe or other SEGA games. The official app description doesn't list which characters are available in the mobile version, but players could originally play as characters such as Gilius Thunderhead from Golden Axe and NASCAR driver Danica Patrick on the console version. The "transformed" part comes into play when racers turn their cars into other vehicles like a boat. The game was originally launched for consoles like the PlayStation 3 and Xbox 360 as a sequel Sonic & Sega All-Stars Racing.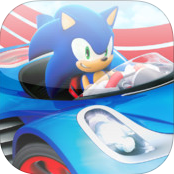 Sonic & All-Stars Racing Transformed has been modified for mobile devices and it allows users to choose between touch or tilt controls or use a third-party iOS controller. The mobile version features a brand new World Tour, 4-player online mode, Facebook integration plus daily and weekly challenges.
The game is available from the App Store for $5. It is compatible with all iOS devices running iOS 7 or later. The original Sonic & SEGA All-Stars Racing is also available on the App Store for only $0.99.
Check out our complete list of Sonic iOS titles here.
If you're looking for a fun and challenging racing game for free,
Jet Car Stunts 2
was also released for iOS devices earlier today.