Submitted by Anders Batten on
The famous crappy bird who became an internet and App Store phenomenon has found a second life on eBay. As you probably already know, Flappy Bird developer Dong Nguyen, mysteriously pulled the popular game from the Apple App Store and Google Play on Sunday, and now it's selling for thousands of dollars on eBay.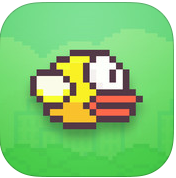 There are multiple iOS and Android devices with Flappy Bird installed on them listed on eBay for upwards of $50,000. One auction by a user named pindrus reached $99,900 in bids before eBay pulled the plug. Keep in mind, just like the hilarious Flappy Bird App Store customer reviews, most of these listings and bids are probably fake.
This is just another chapter in the insane Flappy Bird legacy, which makes almost one wonder if the entire thing is just an elaborate internet prank.
Flappy Bird became an unexplained overnight hit after word of mouth helped it become the most downloaded free game on the Apple App Store. Even though the game reportedly earned $50,000 a day from in-app ads, its creator took it out of circulation after saying he just wanted "peace".
The game is notorious for being incredibly simple yet impossible to play, and for "borrowing" its look from Nintendo's
Super Mario Bros.
".