Submitted by Marshall Walker on
SteelSeries announced today the first iOS 7 wireless controller for all mobile Apple devices. Unlike the previously released MFi controllers, which only support the iPhone, the SteelSeries Stratus is compatible with the iPad, iPhone and iPod. The wireless controller connects to iOS devices via Bluetooth 2.1 instead of attaching itself to a Lightning connector.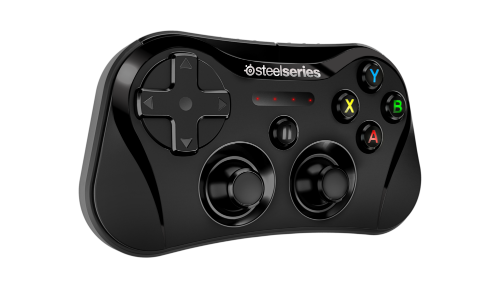 The Stratus is specifically designed for console-style gameplay and can even be used with an HD TV via AppleTV using AirPlay Mirroring.
"The Stratus Wireless Controller, the first wireless gamepad controller ever to be supported in iOS 7, forever alters the mobile gaming landscape," said Bruce Hawver, SteelSeries CEO. "With Stratus, gamers have easy and direct access to a growing roster of great games on iPad that were intended for an immersive, controller-enabled experience."
The Stratus features dual analog sticks, a pressure-sensitive D-pad, 4 action buttons, 4 shoulder buttons, in addition to a convenient on/off switch to save on power. The controller has an estimated battery life of up to 10-hours, and also includes a dedicated Bluetooth button to connect to iOS devices.
SteelSeries also promises that there are "already hundreds of titles in the iTunes App Store that already support the Stratus Wireless."
The Stratus Wireless Controller is now available for pre-order for $100 exclusively on SteelSeries.com.