Submitted by Marshall Walker on
Back in April, PocketGamer claimed Apple secretly met with developers at the annual Game Developers Conference to discuss production of an unnamed iOS "joypad". It was then discovered at the Worldwide Developers Conference on Monday, that Apple had added MFi (Made for iOS) game controller support to iOS 7. Apple followed up the MFi announcement by holding a 45-minute long session on Tuesday, where they showed developers app frameworks and hardware mock-ups for third-party iOS controllers, according to Apple Insider.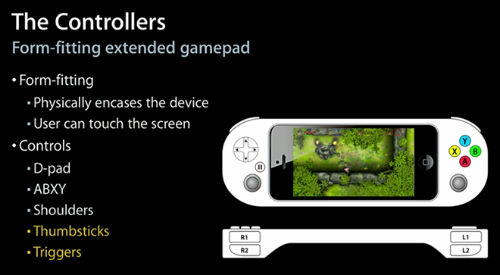 The event was entitled "Integrating with Game Controllers", and Apple revealed that both Logitech and Moga were already collaborating on some prototypes. Apple also showed two mock-ups of a "form-fitting" design, and a standalone device for both the iPhone and iPad. Both controllers featured the standard D-pad and dual analog sticks seen in most home console controllers these days. The form-fitting model turns the iPhone into a gamepad that and frees up space on its smaller display, and the standalone mock-up is a wireless device that does not need to connect to the iPhone or iPad to work. Both controller mock-ups featured a dedicated pause button, pressure-sensitive buttons and non-drifting D-pads.
Apple also discussed designing new games at the event, and stressed that apps should not require the use of a controller to work.
This is great news for users who like to play advanced games like Real Racing 3 on their iPhone. It will also help Apple to become a bigger player in the gaming world, and push developers to create more complex games for iOS users to play.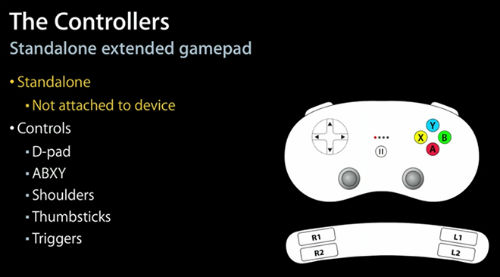 Samsung unveiled a similar
game pad
for its various Galaxy S4 devices back in March, but has yet to release the device.